It has been five years since Msafiri Mtenzi and his family arrived in Kisangani, Democratic Republic of Congo (DRC) with Keith Mosier to pioneer the Gospel work of Congo Frontline Missions in the Congo River basin.
What were the chances of success for this Tanzanian pastor and a 23 year old young American? Many thought they were crazy to go as the first returning missionaries after a war that killed over five million people. Seventeen thousand United Nations troops holding a fragile peace together. Settling in a remote area where Seventh day Adventists were virtually unheard of. Roads and bridges impassable.
IMPOSSIBLE? Yes, except by the grace and miracle working power of our infinite God!!! As we look at ourselves, we can clearly see that little has been done through our own power. All praise and glory be to God!!
Let us pause to look back and praise God for the way He has blessed over the past five years.
Lay Evangelism Training.
To date, Pastor Mtenzi and his team have trained 342 laymen to do church planting and evangelism at Congo Frontline Missions headquarters. In addition, they have trained over 300 laymen in other parts of DRC. Training local Adventist laymen to plant churches and win souls is really the cornerstone ministry of Congo Frontline Missions. What a thrill it is to see these trained laymen go as missionaries to their own countrymen in remote areas!!
Church Planting and Evangelism. To
date, Pastor Mtenzi and our 60+ church planters have started 58 new congregations in unentered areas within a 250 radius of Kisangani. Thanks to ASI, Maranatha, and Garwin McNeilus, we have built 38 One Day Churches for these congregations and also many thatch churches.  Although our church planters face many challenges in their remote areas, we praise God for over 3,380 people who have been baptized since our work began. Our team has worked hard and conducted 147 evangelistic efforts over the 5 years.
Pygmy Ministry. Our six church planters are greatly challenged in the 30 villages they work in to try to reach this downtrodden and very primitive tribe in eastern DRC.  Poverty and illiteracy are only two of the many Pygmy challenges, but at least now they are willing to have their children attend school. Our 5 Pygmy elementary schools are teaching children to know Jesus and trust in the Bible. To date, 216 Pygmies have been baptized. The picture at left is Keith and Tammy Mosier visiting with the Pygmies in their village.
Radio Ministry. When Three Angels Radio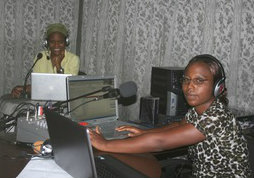 FM went on the air in November, 2011, there were ten other established stations in Kisangani. After only three months of God's blessing, we had become the number one station in the region! We are so grateful for Adventist World Radio partnering with us by providing equipment for the station. With a potential audience of over 3.5 million and a signal traveling out over 160 miles, this ministry has a tremendous opportunity for soul winning. In addition, other Adventist stations would like us to produce programming for them also. Maybe you would like to join Nadege Apatout in our radio ministry?
Well Drilling Ministry. What a providential day it was in July 2009 when God inspired someone to purchase a portable well drilling rig to be shipped to CFM!! So many people are sick most of the time from water borne diseases like dysentery, typhoid, cholera, or even parasites. Nathan and Elisha (pictured at left) have now drilled and put pumps on 13 wells and repaired several others in villages where we have church planters. People come from 2 miles away to get clean water and the wells are busy all day long. But best of all, it is making a tremendous impact on our church planting work as people see that we care!
Publishing Ministry.
Thank you Light Bearers Ministry for sending us a 20 foot container packed with Bible studies in 3 languages! Soon another will be coming. We have completed the translation of The Great Controversy and Steps to Christ into Lingala and are now editing the work. We are planning soon to bring these books into DRC in large quantities in French, Lingala and Swahili! All of our new converts receive Bibles. Our goal is for all members to have Bibles, Bible studies, and books to use in winning others to the truth.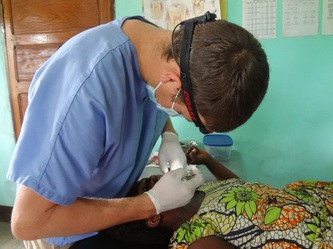 Medical Ministry. Our nurse continues to treat our workers and church planters in our on-campus clinic. We are excited that Luke Fisher (pictured at left) is now training some of our workers to do some dental work and fillings. Currently, the only option in Kisangani is to pull a bad tooth. Soon, the container will arrive with our 24 foot medical missionary boat and we can try exploratory trips on the Congo River. We hope to get a medical administrator to coordinate the expansion of our medical missionary work.
Agricultural Ministry. Soon, our container will arrive with our new 50 hp Kubota tractor! This will really help us to expand our agricultural work. We are thankful for the grant we recently received to enable us to show people how to grow more nutritious crops in an efficient and sustainable way.
Our Staff. The Lord has blessed us with such a dedicated staff!! Our foreign staff includes Keith (president of CFM) and wife Tammy, Msafiri Mtenzi (executive secretary and education and evangelism leader) and wife Jane, Nathan Rittenour (development and publishing director), Elisha VandeVoort (construction manager, church building and well-drilling), Nadège Apatout (health and evangelism instructor and radio co-manager), and Barry Mosier (treasurer, based in America). Our short-term volunteers have also made a huge difference in our ministry. In addition, we have many dedicated locals working in church planting, evangelism, medical clinic, and office. Thank You, Lord!!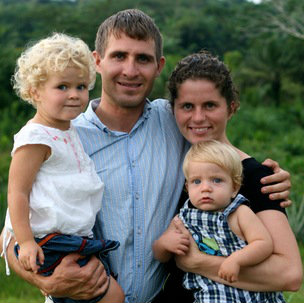 Keith,Tammy, Shiloh, & Caleb Mosier                                                       Msafiri Mtenzi

Congo Frontline Missions Campus
---
Here is a brief time line review of the Congo Frontline Missions to date:
Oct 2003- While he attended ECD Division meetings, Congolese Adventist leaders pled
with Keith Mosier to begin a supporting ministry in north east DRC.
May 2007- Keith and Barry Mosier and Msafiri Mtenzi travel to Kisangani, DRC on an
exploratory trip to investigate the potential start-up of a mission station.
Jan 2008- Pastor Mtenzi and family and Keith arrive in Kisangani-Congo Frontline
Missions is born!
Mar 2008- First 74 church planters trained
Apr 2008- Barry Mosier and family survive airplane crash in Goma
May 2008- First 12 church planters sent to unentered areas
Oct 2008- Nathan Rittenour and Barry Mosier join CFM team
Mar 2009- Bulldozer clears CFM land
May 2009- First on-campus evangelism school is conducted using temporary structures
July 2009- Keith marries Tammy Rittenour
Sept 2009- First container of One Day churches arrive and campus construction begins
Oct 2009- Pygmy ministry is started
Jan 2010- CFM families move to new campus
Nov 2010- Container of Bible Studies arrives including donated well drilling rig
Dec 2010- Frank Ricks secures FM radio license and AWR partners with CFM on
new radio station
Dec 2010- First well drilled with new drilling rig
Jan 2011- School buildings finished-campus construction completed
Jan 2011- Elisha Vandevoort and Nadege Apatout arrive
Nov 2011- Three Angel's Radio goes on the air
Feb 2012- Three Angels Radio becomes #1 station in Kisangani
Oct 2012- Baptisms to date reach 3,380 and church planters reach 60.