We were grateful for the board members who attended our annual meeting this past February. Gary Roberts from Chad, William Abbott from Nebraska, Dr. Tim Rittenour from Minnesota, and Pastor Makulambizia from Goma joined the rest of us here in Kisangani to chart a course for the upcoming year.
This past year was heavily devoted to campus development. Although we still have some construction to do, much has been completed. Currently, the walls are going up for the men's and women's dorms, as well as the cafeteria. Soon we will add a classroom to the houses and shop buildings that are already completed. These One Day Churches look nice out here in the jungle.
We are thankful for God's blessings. At our annual meeting we set a course for evangelism this year. Our plans include over 30 evangelistic meetings with our 33 church planters. In addition, we made plans to purchase land for churches, houses, and small farms in each area. Our goal will be to make the church planters as self sufficient as possible. We have moved forward, trusting the Lord to provide funds to accomplish the work. According to God's blessing we plan to add 30 more church planters later this year, including 10 to the Pygmy people.
By God's grace, we baptized 175 people in the first four months of 2010. Many of these are in the Lingala speaking areas that were just started late last year. Thanks to those of you who are assisting the work with your prayers and support.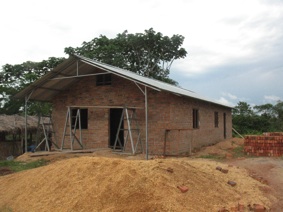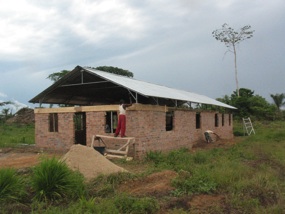 Men's Dorm                                 Women's Dorm, mostly completed
---