Shadows of the Past - Hope for Tomorrow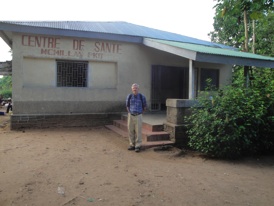 The bullet holes that riddle the walls of many houses here in Kisangani are a constant reminder of a grim
and not too distant past. We are thankful that relative peace has sprouted out of the rubble of war.
Back in the 1950's and early 1960's, there was a large population of foreigners in Kisangani. In fact, there were a number of Belgian families living along the road passing by our mission. Now all that remains are the stones from the foundations of their houses, which are sold for building material.
Most of them fled the country in 1964 when the Simba rebellion erupted, and many people were anxious to push foreigners out. Who could blame the Congolese after so many years of oppression from foreigners? It was a violent time. Eventually, 1,600 foreigners were captured and guarded in the city with plans for execution. A daring rescue came late in 1964, when foreign troops and paratroopers managed to save a large majority of the hostages.
An American missionary named McMillan lived in the village of Batiambale, less than one mile from our current mission station. He had started a large and
successful church school for children. He watched most of his foreign neighbors leave as he bravely carried on with his school. He refused to leave in spite of impending
violence.
Last week, as I chatted with an older villager, he related the following story which
he witnessed with his own eyes. "One day five rebel soldiers came to his front yard
calling him to come out. Leaving his wife and children inside, he asked them what they wanted. They told him that they had come to kill him and asked him to come closer. He approached them and asked if they could wait a little bit while he prepared. He read for some time from his pocket Bible and then spent some time in prayer. Finally, he told them he was ready and they could do what they wanted. One of the cruel soldiers raised his rifle and shot him in the chest, killing him." Later that day, a helicopter came and evacuated his family, including his 6 year old son Ken.
The family must have questioned why the rebels would kill a man who had come only to help. The villagers tell me that Ken is now a doctor in Canada. He didn't want his father's death to be forgotten, so he came back for a visit and built a primary school as a memorial to his martyred father.  We will always remember the dedication of Pastor McMillan as we pass by that primary school in Batiambale.
Two thousand years ago, Jesus came to this earth to help mankind. Violent men executed him. Today we have the privilege of telling people that Jesus not only died for their sins, but longs to live in their hearts. Although these shadows of the past still haunt DRC, we see a bright hope for the future in the imminent return of Jesus Christ. Let us be faithful to do the work God has called us to do.