We could hear the generator working well after midnight and knew that Nathan was still digging. The portable well drilling unit that arrived with our literature container only two days before was doing its work.
"How far did you get last night?" I inquired the next morning.
"Well, I am at 125 feet, but I have hit rock. I'm afraid that is all I can do until I get back from my two month trip to America," Nathan wearily replied. "I'll finish it when I get back, but I have already learned a lot about drilling wells here in Congo."
Up until now, our campus has been using a thirty foot hand-dug well for our water supply. The prospect of a well that actually provides water that we can drink (we filter it now) is pretty exciting.
However, that is really only the start of the plans for wells. As we have considered the many sick people in the village, we see that that vast majority of diseases could be prevented with clean drinking water. Some estimates suggest that up to 90% of the illness is due to impure water.
Thus, we hope to drill wells in many of the villages where our church planters are starting new congregations. As people begin to taste clean drinking water, we believe they will also long for living water. Surely, this is a wonderful medical missionary opportunity. Thank you for your prayers in this exciting new outreach project.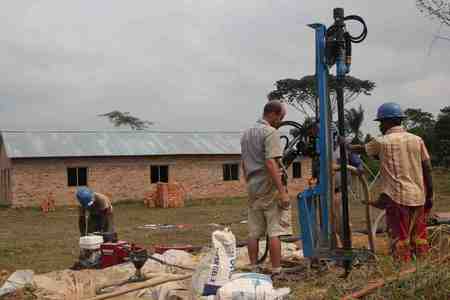 Drilling a Well with the new Portable Well Drilling Unit