By Valerie Ricks
Here we are!  We have arrived at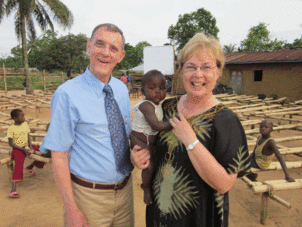 our destination - Kisangani, DRC.  As our plane approached Kisangani, there was forest in all directions, as far as the eye could see.  Then we saw the great Congo River winding its way through it all. What a sight to behold, and to think, this is now our home!
Frank will be setting up a new FM radio station with the help of Adventist World Radio. He is also a laboratory technician.   I, as a nurse, will be helping to start the medical work here.
 
       The weather is tropical but not as oppressive as I had feared. Right now in our apartment, there is no running water or electricity hooked up yet, but we do have a roof over our heads. Currently, I am typing in the dark with battery power and candle light while Frank is pouring cold water over himself from a bucket in the bathroom. All this is accompanied by lots of gasping, oohing, and aahing! We have mosquito netting over the bed, brick walls and a tin roof.
 
The streets in town are busy with motorcycles and bicycles and a few vehicles.  Lots of little businesses line the paved roads radiating from the center of town.  Vehicles have the right of way – not the pedestrians.
Everyone is going somewhere carrying something. People are selling everything. It's like a huge flea market. A person can even buy a drink of water tied up in a little baggie from some enterprising woman who is carrying them on her head in a basin.
As we leave the city heading for Congo Frontline Mission's rural outpost, we see many people carrying heavy loads of firewood, charcoal, or bananas. Then the road deteriorates into ruts and holes as we pass a Catholic mission and a pasture.
My first trip to the market the next day was preceded by a heavy rain, making the market a muddy mess. Marybeth didn't want me to go in for fear I would give up on missionary life right away. However, I was soon traipsing through the mud, garbage, and filth to get through the pathways between the stands. But at the end of the experience, Marybeth commended me since I was still smiling!
Friday we had a baptism at the Tschopo River. It was a touching scene. The students had studied with the candidates and helped by preaching at the meetings. As we followed the truck carrying the baptismal candidates, we thrilled to hear them singing for joy along the way. As people received their new Swahili Bibles, they handled them like a blessed treasure.  We sang as each one came up out of the water.
What vast unreached areas are here! Wonderful, precious people live throughout these towns and villages. Even in the most developed places the wilderness still dominates. And for these people, God has a plan – a plan to save as many as will consent to His loving call. We are here to cooperate with God as the Holy Spirit opens the eyes and hearts of these, His children. We are aware that the old foe will not give up without a fight, so please continue to pray because prayer does change things!