My name is Elisha Vande Voort, and as the newest member of the Congo Frontline Missions team I have been asked to share some things about myself and my experiences here. I was born in 1981 and raised in a Godly Christian home on a farm near New Sharon, Iowa. For the past 10 years I have managed and operated a 1300 acre certified organic farm for a Certified Public Accountant, who had his business in a town nearby.
For years God kept calling to my heart to, like Elisha of old, leave the plow behind and come serve and follow Him. I loved my job even though it was very demanding and so stressful much of the time. Instead of me controlling it, it often controlled me. It took me years to recognize this and a few more years to do something about it. I had some really hard decisions to make, but friends, let me tell you, when you give up something for God and fully surrender every area of your life to Him, He will replace whatever you have given up with something so much better.
I had to take a big step of faith and go far out of my comfort zone and do many things I have never done before. I had never been outside of America, flown on an airplane, or spent weeks living in a tent in the middle of the jungle, but God has been with me every step of the way, giving me strength and wisdom, calming my fears, and doing so much more for me. He and I have become really close friends, and I have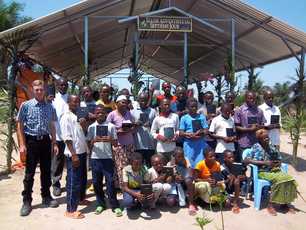 found that there is no better friend and guide than the One who cares so much for each one of us!
In the past five months I have been able to help put up over a dozen One Day Churches, scattered all across central Congo, assist in building an eighty foot radio tower in Kisangani and help install the radio antennas which will reach millions of people in the surrounding area. I have helped to drill wells and fix several hand pumps that were no longer working in different villages. I have worked on bicycles, motorcycles, generators, vehicles and many other things and have been able to pass out literature, help with evangelistic efforts, hand many Bibles to new believers who have never before held the Word of God, and have witnessed dozens and dozens of baptisms.
In our work here we encounter a lot of very, very poor, heavily laden, suffering people and children! Many of the things we see and the stories we hear in this war-torn country are heart wrenching to say it mildly! Since coming to Congo I have had a much greater realization of how unbelievably blessed I truly am! I am also so thankful to my Heavenly Father for all His protection and leading in my life; for all the many incredible experiences He has allowed me to have here, and for the privilege of working with the Godly, dedicated staff and workers at CFM!
Please remember our church planters and the staff here in your prayers. Congo is not an easy place to live, travel, or work in! Many of us have become very sick with serious illnesses. The police and military often give us problems, and there are many people in this country that are heavily into witchcraft and can be very violent at times. Really pray for the church planters! I have been in many of their villages for a day and have seen and heard some of what they have to endure and believe me, they have it tough! Satan hates our intrusion into his territory and is fighting back, but with God all things are possible and with His power, strength, and amazing protection, the Gospel is being proclaimed throughout the country of Democratic Republic of Congo. Thank you so much for your prayers and support. We can often feel that many are uplifting us in prayer each day. May God richly bless you as you walk with Him along life's path is our prayer.
In His service,
Elisha