In mid August Congo Frontline Missions was privileged to sponsor a second historic meeting of all the pastors for the Upper Congo Field. We say "historic" because it is only the second time in the history of the field that all 25 pastors have met together. During the war years, many pastors and their members became discouraged and evangelism came to a standstill. These five days of meetings were a great encouragement to them.
During the last two days of the meetings, they were joined by our church planters and their wives. We were truly bursting at the seams with a total of 130 people on our campus!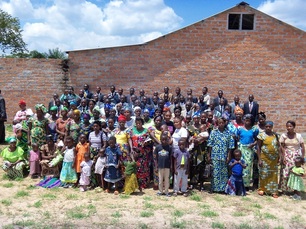 The pastors were so excited to hear the reports of our church planters and how the work is moving forward into dark areas. So far this year, we have seen over 600 baptisms as a result of the hard work of our pioneer workers and the blessing of God.
The wives of our pioneers were so happy to attend the meeting and fellowship with other church planter wives. We bought two bales of used clothing to distribute among them as a gift. Although life is hard for our church planters, it is doubly hard for their wives. So far, two of our pioneer families have buried children in the areas where they are planting churches. They have left home and family far behind, which is really difficult in this culture.
Those from the Opala area were especially thankful to reach the meeting safely. Their route is currently plagued with hostility between the government and the disciples of a man who calls himself "god". This dangerous area is full of robbers. One missionary named Zalingo was carrying money from his church plant to buy a portable speaker system. When armed men forced him to show them all his money, he knew they would take it all away from him. However, he was shocked to hear them say, "He is a man of God, let him keep most of the money."
Another missionary named Bongoa Posho was confronted by robbers who wanted his bicycle. He felt like crying as he saw them walking away with his evangelism bicycle. What would he use for God's work? How would he and his wife reach CFM for the meeting? Before the men had gone far, his prayers were answered in a strange way. Bang!! He
heard an explosion as one of the tires on his bike exploded. The rebels said, "This
bicycle is worthless. Give it back to the pastor." His sorrow turned to tears of joy as they brought the bike back to him.
We thank those who faithfully sponsor and pray for our church planters. Their lives are hard, but now there are many churches in dark areas where there was nothing only two years ago. Praise be to the Lord of the harvest!